Welcome to the Carlinville Public Library
---
________________________________________
 Your library resources are available anytime, anywhere
 Your library resources are available anytime, anywhere
Advanced Search | Your Account
_____________________________________________________________

Tuesdays @ 10am

is story time for toddlers- Pre-K
Tuesdays @ 1pm

is story time for school-aged kids (three classes- K-1st, 2nd-3rd, and 4th-5th)
and

Thursdays @ 1pm*

will be an all-ages event or presentation related to the theme of the week. All are welcome!! (*The final Thursday will be an after-hours library camp-out from 6:30-8:30pm)
Please register your child for Summer Reading at the library or online before June 4th. Reading logs will be available starting June 1st. Read to win new badges and prizes each week. It's going to be a FUN summer! Questions? Call the library at 217-854-3505.
Here's a glimpse at our schedule....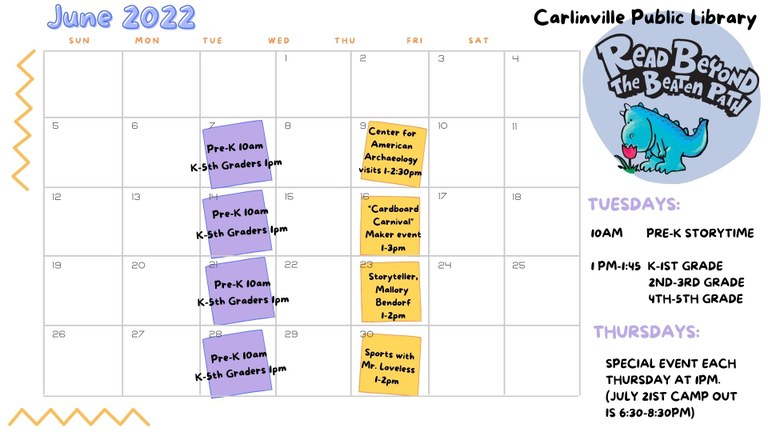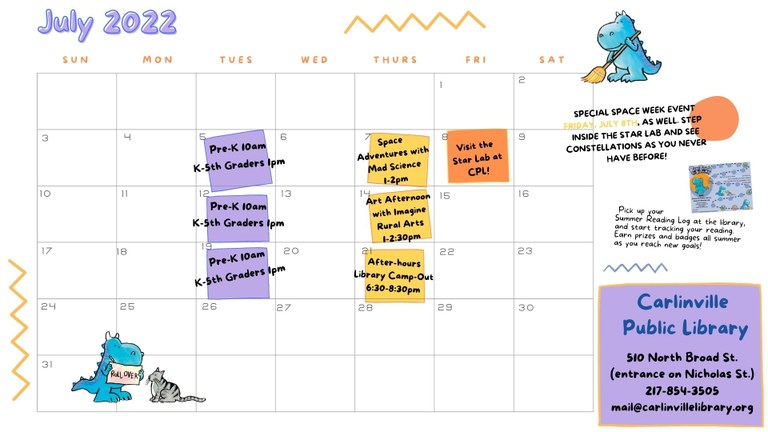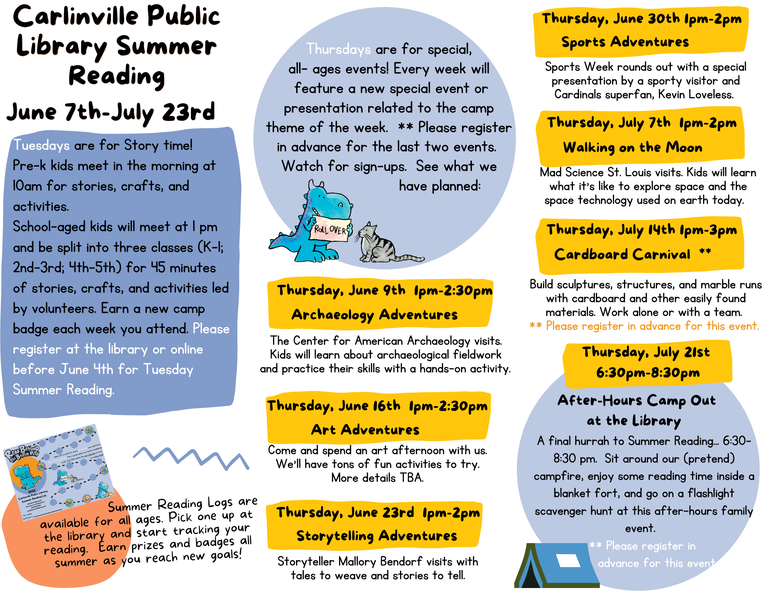 ++++++++++++++++++++++++++++++++++++++++++++++++++++++++++
NEW APP! NEW APP! NEW APP! NEW APP! NEW APP! NEW APP! NEW APP!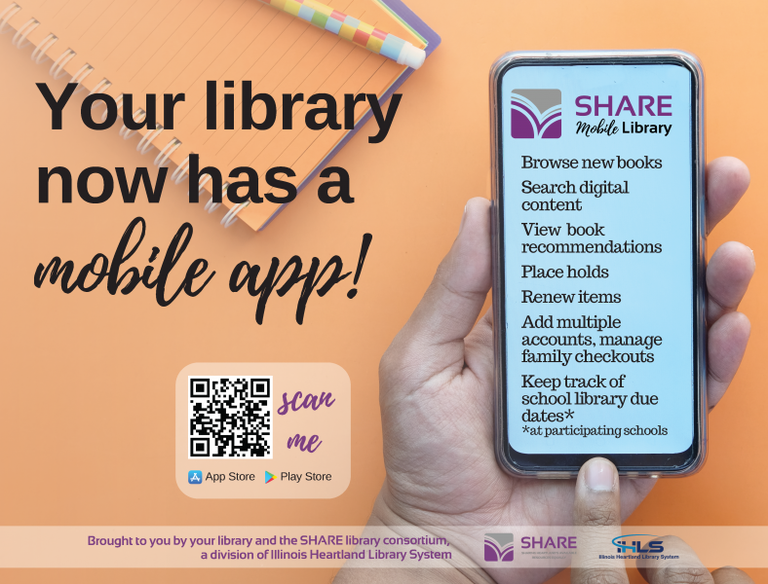 Now it's easy to manage multiple accounts, keep track of checkouts and due dates, and renew items from your mobile device using the SHARE Mobile Library, Carlinville Public Library's new app! Search for books, DVDs, video games, audiobooks, e-books, and more. Find it now in the Apple App store or Google Play Store.   Search for SHARE Mobile Library
Brought to you by Carlinville Public Library and the SHARE library consortium, a division of Illinois Heartland Library System.
+++++++++++++++++++++++++++++++++++++++++++++++++++++++++++++++++++++++++++
e

PrintIt
Cloud and mobile print solution,

ePrint

It

has arrived at Carlinville Library! Print securely from your mobile device. Send files to be printed from your home computer, and come to the library to pick them up.
10 cents for Black and White, $1.60 for color.
Upload documents to this website:
or email your documents to our secure submission emails:
Let us know your user name or print release code when you get to the library, and you'll have your documents in seconds!
Call with any questions about this new service- 217-854-3505.
************************************************************************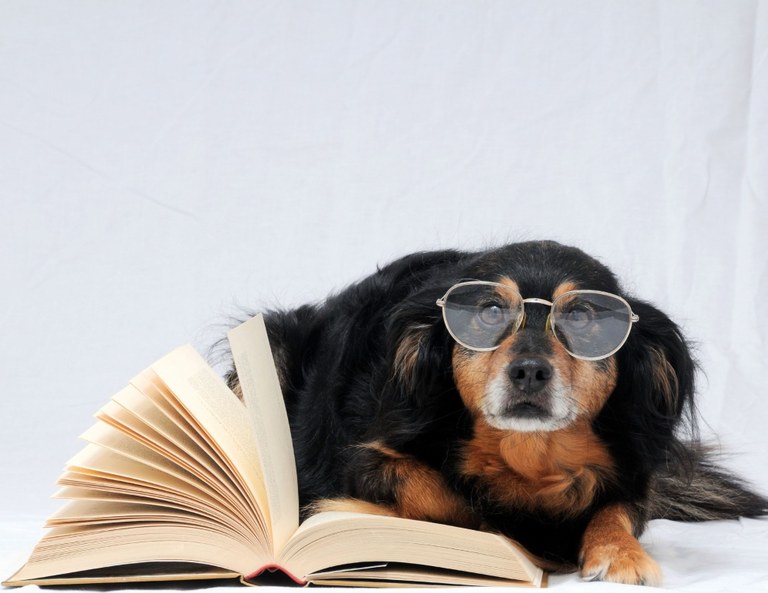 *********************************************

Carlinville Library cardholders now have access to Explore More Illinois, a cultural pass program that provides discounts and other offerings from museums, historical societies, performing and visual arts centers, and other attractions across the state of Illinois. Offerings differ by attraction and include free or reduced admission, free parking, discounts at attraction shops, and more.  
 To begin, simply follow this link, and enter your valid library card number and password to log in. Call the library with any questions 217-854-3505.
 Current attractions include the Abraham Lincoln Presidential Library and Museum (Springfield), Chicago Children's Museum, and Discovery Center Museum (Rockford). Visit exploremoreillinois.org to see a complete list. New attractions are added on a regular basis so be sure to check back frequently.
Explore More Illinois is a service of the Reaching Across Illinois Library System (RAILS). RAILS is funded by a grant from the Illinois State Library through the Office of the Secretary of State Jesse White and provides a number of different programs and services for Illinois libraries and library users.
********************************************
Open Regular Hours:
Monday-Thursday
9 AM-7 PM
Friday
9 AM-5 PM
Saturday
9 AM-1 PM
_______________________________________________________________
Donations to the Carlinville Public Library may be tax deductible; donors should check with their tax advisor. 
_________________________________________________
Please use our Cloud Library services for access to eBooks and eAudiobooks. 
Through your library account, you will have access to more than 37,000 eBooks and 28,200 eAudiobooks
You will need: your patron barcode and pin number
Follow the prompts
When asked for your home library, choose
Illinois Heartland Library System
New titles may have a waiting list due to the licensing agreement with the big 5 publishing companies
If you have questions, call the library 217-854-3505 
Patrons also have access to browser-based reading through the Cloud Library web portal.  Patrons with older devices that are no longer compatible with the app, can now use any web browser to go to: 
Just log in with: library barcode number and pin.  Patrons can then navigate to My Books.  Click on the Read button to access and read the borrowed items.  
+++++++++++++++++++++++++++++++++++++++++++++++
Did you know?
Our patrons  saved
$539,925.19
in 2021
by borrowing instead of buying!!!!!
___________________________________________________
CARLINVILLE PUBLIC  LIBRARY COOKBOOK
"WELL READ & WELL FED"

3 COPIES ARE STILL AVAILABLE!
WHEN THEY ARE GONE, THEY ARE GONE!!
GET YOUR COPIES TODAY!



The library is proud to present "Well Read & Well Fed," a hardbound cookbook with 318 recipes from many of Carlinville's best cooks.  Special features include:  the history of the library (1870 to present), the names of the library trustees, the names of all the library directors starting with Annie Welsh in 1871, and 24 pages of cooking tips.  A photograph of the library's bronze statue, "Two Kids on a Bench," is on the cover.  Each recipe includes the contributor's name, so it is easy to find the recipes of friends and loved ones.  Recipes are indexed separately by contributor and title.   Available at the library, the price is $18.  It also can be ordered by sending a check for $21 (which includes $3 postage) to Carlinville Public Library, PO Box 17, Carlinville, IL 62626. For more information, call the library at 854-3505.
________________________________________________________________________

Resources - Work and research from the office or from home, anytime:
---
___________________________________________________
LIBRARY BOARD MEETING DATES 2022
First Monday of the month at 4:30 in the
Library Meeting Room unless otherwise noted
January 3
February 7
March 7
April 4
May 2
June 6
Tuesday, July 5
August 1
Tuesday, September 6
October 3
November 7
December 5
______________________________________________
DATES LIBRARY WILL BE CLOSED IN 2022
January 1
January 17
February 21
March 9- close early for Staff Training
May 30
July 4
August 10- closed 3-5pm for Staff Meeting
September 5
November 8
November 11
November 23- close at 5 for Thanksgiving
November 24, 25
December 22, 23, 24, 25, 26
December 31
January 1, 2023
_______________________________________________________
Library main email address: mail@carlinvillelibrary.org
Library Board of Trustees e-mail address:  trustees@carlinvillelibrary.org
---