Carlinville City Cemetery
Carlinville City Cemetery: (500 block of Mayo Street).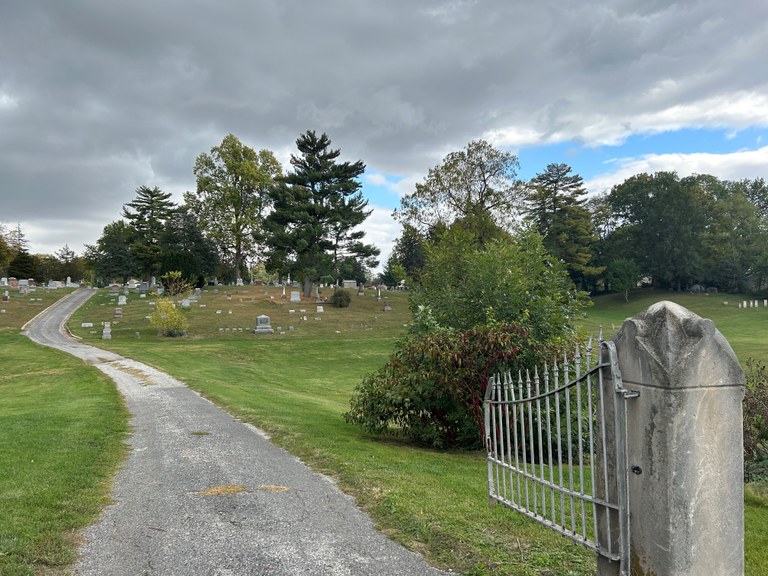 The Carlinville City Cemetery has tombstones dating back to the early 1830s.  This cemetery is the final resting place for a disproportionate number of prominent citizens.  Among the notable burials are:
John M. Palmer (1817-1900), the 15th Governor of Illinois from 1869-73, U.S. Senator from 1891-97, and Gold Democrat Presidential candidate in 1896.

He was a Civil War major general and commander of the Corps who fought with distinction at Stones River, Chickamauga, and elsewhere.
Richard Rowett (1830-1887), a Civil War brigade commander, state politician, and nationally recognized breeder of thoroughbreds, including a Kentucky Derby winner.

He also introduced the true-bred beagle hound to America.
Gideon Blackburn (1772-1838), the founder of Blackburn College and the President of Centre College in Kentucky from 1827-30.
Walter O. Woods (1875-1951), the United States treasurer from 1929-33.

His name appeared in all paper currency during that time.
Gustave Loehr (1864-1918), one of the original founders of Rotary International, a premier service organizations of the world, who hosted the first-ever Rotary meeting in his office in Chicago in 1905.
Willian B. Otwell (1863-1941), who is credited as the founder of the 4-H movement and whose iris fields on the west edge of Carlinville attracted national acclaim and thousands of spectators.
John I. Rinaker (1830-1915), a Carlinville lawyer, Civil War brigade commander, and one-term Congressman.
Lucinda Corr (1844-1914), the first female medical graduate in Macoupin County.
John D. Conley (1843-1926, a founding faculty member of the University of Wyoming and second president of the university.
Ezekiel Good (1796-1834), considered the first white settler in Carlinville.

The cemetery was created on land owned by Good.
NEXT: Site of Bell from the Second Courthouse  (St. Paul's Episcopal Church - 415 South Broad Street).