Governor Palmer House
Governor John M. Palmer Home (305 South East Street)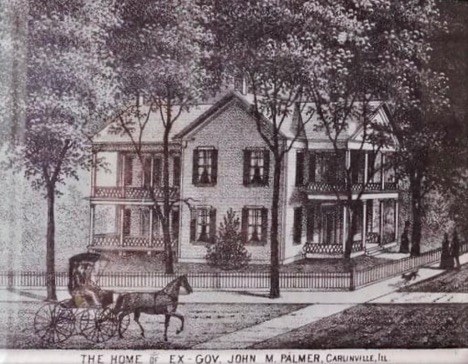 Illustration of the John M. Palmer Home taken from a 19th century Macoupin County plat book.
 

Notice the east wing of the house (left side of illustration) which was detached from the building and moved down the street to its present site.

Constructed between 1845 and 1849, this is believed to be one of the oldest structures in town, and possible the second-oldest home. The main part of Palmer's home stands at 305 South East Street and is privately owned.  Sometime around 1902-1903, the east wing of the home was detached and moved to 233 East Second South Street, where it also remains a private residence. 

Palmer (1817-1900) lived here until 1867, and went on to become one of the foremost political figures in Illinois history.  A Civil War major general, corps commander, and close friend of Abraham Lincoln, Palmer was elected the 15th Governor of Illinois in 1868, and is considered one of the best chief executives in state history. During Palmer's time as Governor, the third Macoupin County Courthouse was being built.  As the price of the construction continued to grow, along with protest and lawsuits, Governor Palmer took the position that the building should not be left unfinished and no doubt had considerable effect in securing a bill which allowed the county to sell more bonds and incur even  more taxes. 

John M. Palmer served as U.S. Senator from 1891-97 and enjoyed widespread support as a Presidential possibility in 1892.  In 1896, he ran for President on the third-party Gold Democrat ticket.  A statue of Palmer was dedicated on the grounds of the Illinois State Capitol on October 16, 1923.   Though he had moved to Springfield before his election as governor, Palmer is, without question, the most famous Carlinville resident ever.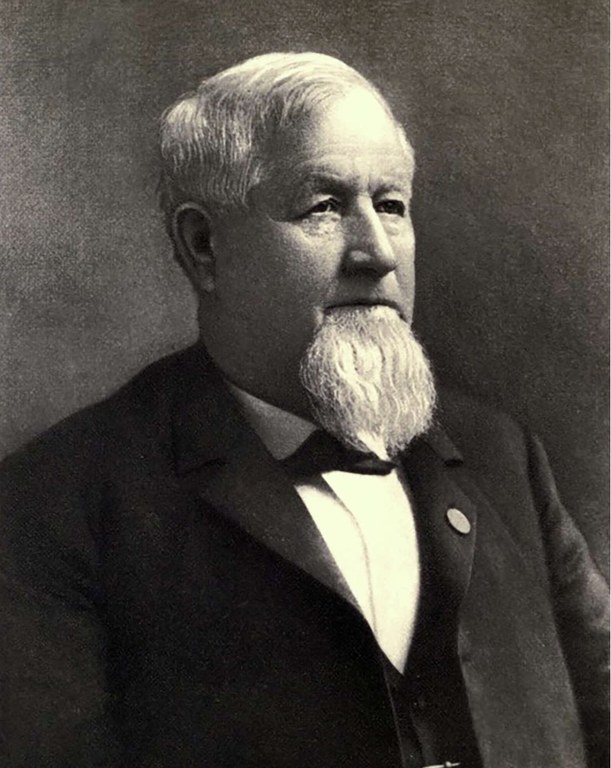 John M. Palmer, 15th Governor of the State of Illinois (1869-1873)
NEXT: East Wing of the Governor Palmer House (233 E. 2nd South)