Lincoln Boulder
Lincoln Boulder (Methodist Church Yard- 100 block of East First South Street)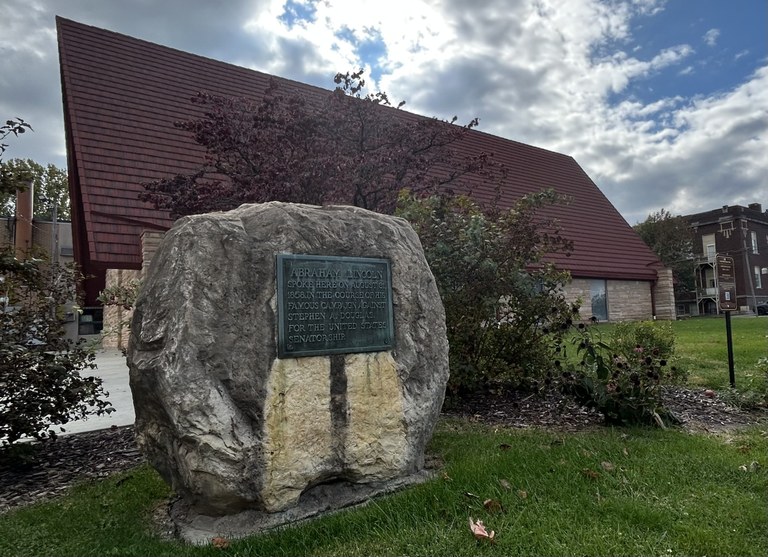 Abraham Lincoln had two known speaking engagements in Carlinville, on April 6, 1840 and August 31, 1858. This boulder marks the site of his 1858 speech during his race for the U.S. Senate against Stephen A. Douglas.  There was a small audience on hand to hear his speech since he was not very well known here and the principals he espoused were not popular in Macoupin County.  It was estimated that less than 100 people were on hand to hear the Springfield lawyer.
Lincoln's memorial is a large boulder weighing several tons with a bronze plaque on it.  The boulder was excavated from the hillside in the course of the construction of the Bunker Hill hard road and was brought to Carlinville to stand as a memorial to the martyred president.  On August 6, 1929, when the county celebrated the centennial of its founding, a tablet was unveiled in Lincoln's honor on the spot which he spoke in the Methodist Church yard.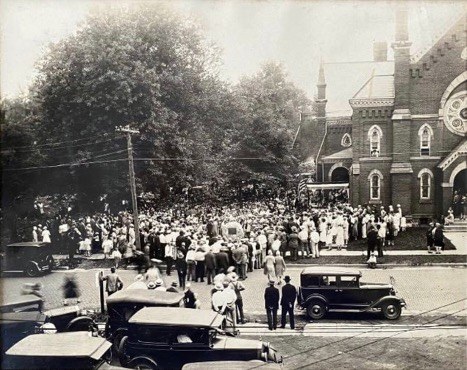 A view of the Boulder Dedication on August 6, 1929 during the Carlinville/Macoupin County Centennial Celebration.
NEXT: Site of the Illinois Traction System and Depot (125 North West Street)