Marvel Theater
Marvel Theater (228 West Main Street)
At the urging of his wife, Frank and Frieda Paul decided to build a movie theater in Carlinville.  In 1920, the Marvel Theater was built on the corner of West Main and Plum Street.  The theater seated 900 people complete with dressing rooms and an orchestra pit for vaudeville and traveling entertainers.  The theater offered the best in silent movies with Frieda providing accompaniment on the piano and the organ.  The Marvel was described as "the most beautiful theater between Springfield and St. Louis".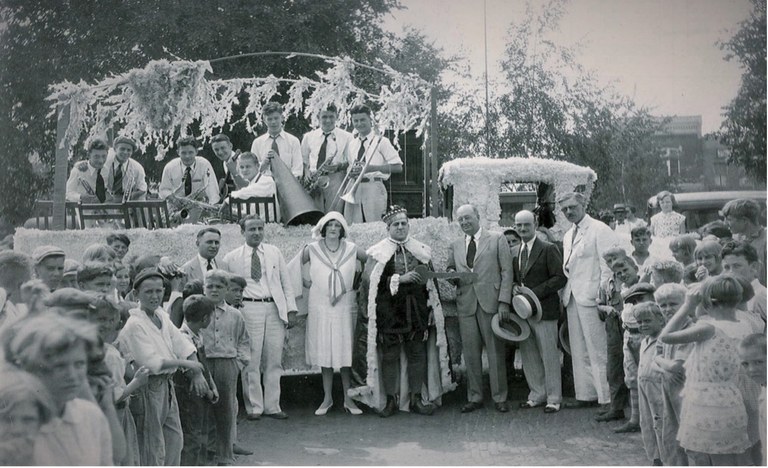 1920 Parade celebrating the opening of the Marvel Theater.
In 1927, the Marvel was destroyed by fire.  Frieda and Frank moved across the street to the old Landale Theater located at 211 West Main.  The Landale Theater was also the Grand Theater and many years later would become the Carlinville Bowl. 
The new Marvel Theater opened on January 29, 1928 equipped with sound and an upstairs balcony.  The theater continued to show movies and be a venue for traveling entertainers.  The new Marvel is the existing theater.  A large cut-glass chandelier with thousands of crystals hung from the ceiling of the theater.   Years later with the introduction of Cinemascope the chandelier which hung in front of the big screen was removed.  The lobby was tiled in pyramids of art deco glass blocks which remain today. 
After Frieda's retirement, her son, Norman Paul, and his wife, Delphine, assumed the operation of the Marvel.  Norman made major renovations over the years including converting the balcony into a second cinema. 
The Marvel was closed temporarily in 2014 while the Paul family continued to maintain the building and the equipment.  On November 16, 2015, the Marvel was sold to Mark Hughes and reopened on November 19, 2015 operated and managed by Eisentraut Theaters.