Macoupin County "Cannonball Jail"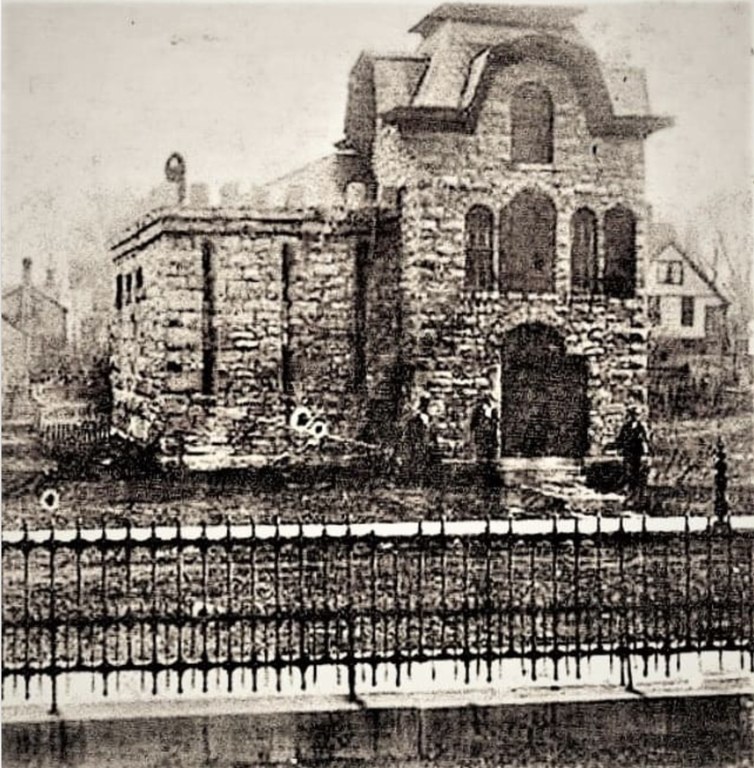 Thought to be one of the earliest photos of the Macoupin County "Cannonball Jail".  Notice the wrought iron fence in the foreground.  This is the fence which went completely around the Courthouse grounds.  It wasn't in place long before it was taken down and sold for scrap metal.  There are very few photographs of the courthouse showing the fence.
Macoupin County "Cannonball Jail":  (205 East First South Street) 
One of the few Cannonball Jails still in existence.   This historic county jail was the best-known and longest-serving of the detention facilities in Carlinville.  Variously described as a "fortress" or "dungeon", the jail opened in 1869 and served the county until 1988, a total of 118 years.  The architect of the jail was Elijah E. Myers, who also designed the Macoupin County Courthouse and the Loomis House on the Square.  The jail is built in the "Jailer Residence" style, a popular jail design in the 1800s.  This style of architecture meant that not only was this a jail but it was also the home of the Sheriff and his family.  There is a small room on the second floor of the parapet where the Sheriff and his wife slept and the family ate their meals.  A tiny stairway leads up to a smaller room on the third floor where the children slept.
Few prisoners have managed to escape the Gothic, dungeon-like jail during its existence.  Part of the reason was Myers' design.  Each stone of the building's exterior was carved out at the ends, with a Civil War-era cannonball placed in every juncture of two stones.  The ceiling, walls, and floors were built with one-inch iron plates and twenty inches of stone above and below.  As a result, prisoners were virtually unable to escape by removing individual stones from the walls. 
Originally designed to hold 16 men and one woman, at one time the jail held 33 prisoners, four of which were accused murderers. 
Photo 2:  The Macoupin County Sheriff and his Deputies in front of the "Cannonball Jail" during the time when US Route 66 traveled down the middle of Macoupin County on IL Route 4.  (1926-1930)
TRAIL ONE NEXT: Governor John M. Palmer Home (305 South East Street).
TRAIL TWO NEXT: Carlinville Catalpa Tree